Behindwoods' official YouTube channel 'Behindwoods TV' with close to 1 million subscribers, has constantly been publishing videos related to Entertainment, Politics, Current Affairs, Business, and Sports.

Now, a brand new channel 'Behindwoods Air' is all set to be launched on February 16 at 9 am exclusively for non-cinema events and interviews. Interactions and interviews with high profile political leaders, businessmen, and public feedback videos will exclusively be featured in this new YouTube channel.

We are also pleased to inform our readers, that 'Behindwoods Air' will be launched by M.K.Stalin, one of Tamil Nadu's most important political leaders and the working President of Dravida Munnetra Kazhagam Party.

Going forward, get set to watch videos related to cinema on 'Behindwoods TV', and videos related to current affairs and politics on 'Behindwoods Air'. Subscribe our channels to get notified quickly on to your feeds.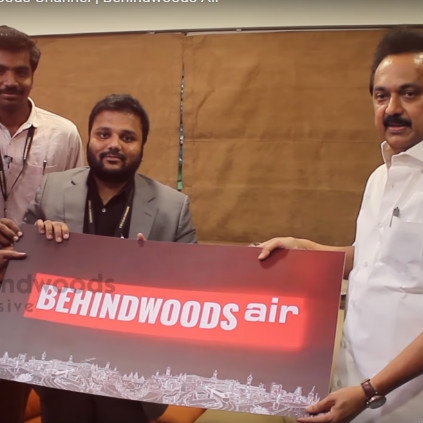 'Behindwoods Air' official YouTube channel was launched, a few minutes ago, by DMK's working President, M.K.Stalin, who wished the entire team of Behindwoods for the new start.

Stalin said, "Behindwoods has been a renowned and a very popular name in the industry of digital media, for the past 14 years. They are starting a new channel, exclusively to cover current affairs and political stories, which is a very good thing.

I hope and request Behindwoods Air to report local, national and International events, incidents and stories, without any political influences or corruption. If they function in the most honest and genuine way, Dravida Munnetra Kazhagam (DMK) will forever be supportive. At this juncture, I am very glad and happy to launch the official YouTube channel of Behindwoods Air. Best wishes."

For those who haven't subscribed, follow this link, to stay updated about current affairs:
https://www.youtube.com/channel/UCm4PlToTlCcOf-jUWSFB3iw
M.K.Stalin to launch Behindwoods Air YouTube channel
People looking for online information on Behindwoods Air, M.K.Stalin will find this news story useful.