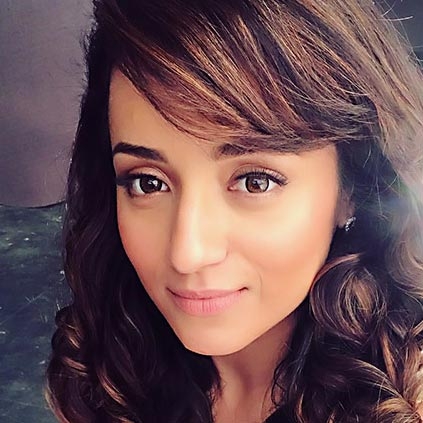 Actress Trisha completes 15 years in the industry and to thank her fans, she engaged in a Twitter chat with them this evening (December 13). Few interesting tidbits from this chat session are as follows:

1. What cheers you up when you are feeling low?
A. "My puppies, food and netflix ."

2. How excited are you about Hey Jude?
A. "Cant wait for url to see it :)"

3. Your advice to budding young actress?
A. "Work hard,follow your gut n be oblivious to most people around :)"

4. Out of the films that you have acted, tell us one movie that is close to your heart?
A. "I honestly have to list out atleast 20 when asked this question"

5. Favourite place?
A. "Italy"

6. The best compliment that you got?
A. "That my heart is more beautiful then my face 😂"

7. Describe your 15-year career in one word?
A. "Surreal"

8. Any idea of coming back to Tollywood?
A. "Only if its a kickass script"

9. Your biggest strength?
A. "My brain"

10. About love?
A. "It is the most magical and essential thing in life"

11. Your biggest fear?
A. "Being buried alive 😳"

12. How many films you have in hand?
A. "I have 6 releases ."

13. Biggest learning?
A. "Patience and stay humble"

14. "Is your relationship status single or mingle 🤔?"
A. "Hahaha i never mingle"

15. What do you like about Tamil audience?
A. "Loyalty"

16. How was Kaatru Veliyidai?
A. "I loved the film"

*Tweets are not spell-checked
Actor Trisha Krishnan was conferred the UNICEF celebrity advocate status, at a special function to mark the World Children's Day. She will voice the rights of children including adolescents and young people and lend support to efforts for addressing anaemia, child marriage, child labour and child abuse, faced by millions of children, especially in Tamil Nadu and Kerala.

Trisha is the first film actress from South India to receive the recognition by UNICEF. Speaking at the occasion, Trisha said, "I feel honoured with this recognition. I commit myself to create more awareness on health, education, nutrition and protection of children, especially the adolescents and young people in Tamil Nadu and Kerala. I would support the efforts of the government to make Tamil Nadu malnutrition-free and open defecation free."

Trisha interacted with over 50 children who were present at the function. During her interaction with them, she stressed on girls education, a magic bullet to eliminate social evils like child marriage and child labour. "If all the girls attend school up to 18 years, we can eliminate child marriage and child labour. In long run, girls' education will also contribute to the reduction of maternal and infant mortality and malnutrition among children," Trisha added.