'Kuttram Kadithal' fame director Bramma is yet to give updates about his next announcement post his success received in Magalir Mattum. Earlier today our team got in touch with him to know updates about this next project.

"I have been very busy scripting lately. I don't wish to reveal any details about the script or the genre of the film as of yet since similar topics are being addressed by everyone. For now, all I can say is I am working on two projects and will provide you with updates when the time is right" said the director.

Stay tuned to know updates about his films soon.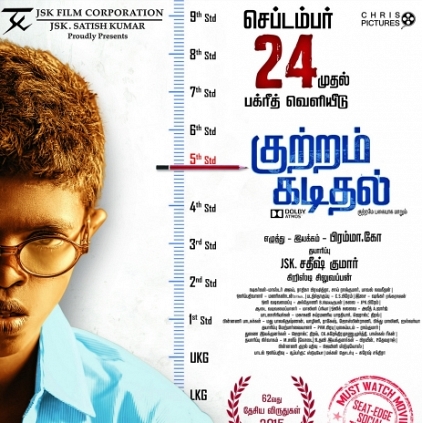 The National Award winning Kuttram Kadithal is set for release on September 24. We had a quick chat with producer Christy Siluvappan of Chris Pictures on his thoughts ahead of the release of the film.
"The film takes place over a single day and talks about how an incident affects many characters. Children's education is just one of the themes being touched over the course of the film. It so happened that the plot was designed like this by director Bramma. This won't feel like the work of a newcomer at all. Bramma is very efficient and you'll feel the thrill and anxiety all along the run time of just over 2 hrs.
Me and Bramma go back a long way to around 15 years back, and we were a part of theater, writing and acting in many plays. Kuttram Kadithal is my first outing as a producer and we feel as nervous and excited as we were before staging a play."
On whether Puli would impact his film's run, as it arrives on Oct 1 just a week after Kuttam Kadithal,
"I am not thinking too far-fetched and our aspirations are very realistic. Even after Puli, I believe that our film would survive and we are confident. Both films cater to a totally different audience space. Puli is like Baahubali, and we hope to be like Kaaka Muttai.", signs off Christy on a positive note.
Bramma speaks about his next projects after Magalir Mattum
People looking for online information on Bramma G will find this news story useful.