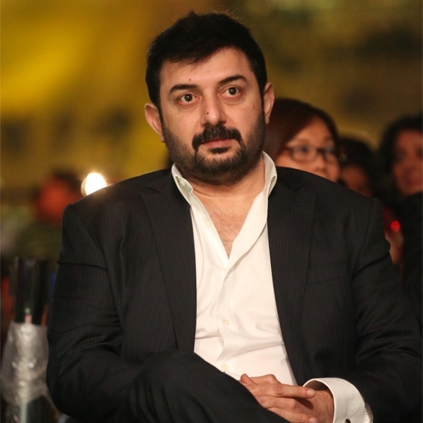 The audio launch of Bhaskar Oru Rascal directed by Siddique was held on December 13. The film stars Arvind Swamy and Amala Paul in the lead with Amirsh doing the music and being produced by Harshini Movies. While sharing his experience on the film, the actor spoke,

"Firstly, I am not used to such functions so I came early and waited in the car parking all the while, so don't think I was late, I was here before anyone else was. The music director, Amrish is a young bundle of talent and I am so happy for him, and producer Murugan is a very passionate person and always wants to contribute to the fullest for the film's success, I like him for that and I wish this film is a huge success for no one but Murugan.

I know that producers pool in money from getting it for a high interest from financiers, I also know that the film won't release without paying anyone, so I don't take advance payments or payment schedules. I'm not telling if it's right or wrong but this is how I've been and so will it be.

Amala Paul, is like a wild free-spirit, whenever we try reaching her over the phone, she's on a holiday to Himalayas or some island, and only after she comes, we would shoot, it was wonderful working with her as well.

My director Siddique feels thankful for me taking up this project but it is me who is grateful to him for having selecting me for this. If someone has to learn something from him, it is patience. I also thank everyone who's worked hard for this project and I wish the audience like the film."

Bhaskar Oru Rascal is an official remake of Siddique's malayalam blockbuster Bhaskar the Rascal.
Actor Arvind Swamy's upcoming cop-thriller Vanangamudi is going through the fastest phase of its shooting now. Directed by Selva, the film has been shot in Tuticorin among other places, and will further be shot in Kodaikanal for a few important portions.

Following this shoot in Kodaikanal, a 5-day schedule by the first week of December, at Chennai, will wrap up the entire shoot. The announcements regarding the first look, teaser, audio and trailer will follow.