Actress Namitha is now an excited girl, for the fact that she is going to get married. Yes, Namitha would be getting hitched to her longtime friend, Veer and she told this happy news through a video, posted from Bigg Boss fame Raiza's handle.

Namitha said, "Hi everyone. Veer and I are getting married on November 24. We want your love and support and keep showering us with your blessings. I am going to be a bride on 24th. Yaay! Thank you machans."

Behindwoods sends its best wishes to Namitha on this happy occasion.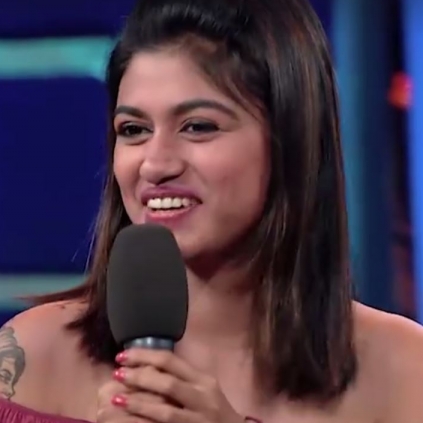 Ex-Bigg Boss contestant Namitha hits back at crowd favourite Oviya. She claims that the audience only knew half the truth. In a letter which is claimed to have been written by Namitha, she has given a brief explanation of Oviya's true nature.

"The Half Truth

You wake up in the morning with a smile and hope to do better but then someone instigates you and your peace of mind is shattered. You pick up your pieces and try to move on but there she goes poking again with her game face on.

One day you lose your temper cuz you have self-respect and you are a defender. You get all the fingers pointing and you can hear all the chatter. You judged me on my portrayal where the show is as bogus and the directors are experts in betrayal.

How easily you trust and think it's unjust. Were you there in that 'hell-hole' from dawn to dusk? Am sure you have heard of doctoring where you snip a whole day to just an hour and get facts altering! Beware of the half truth, you may have gotten hold of the wrong half. I say cuz I know, you were "watching" but were you really "seeing"?"

* Namitha's statement is not spell-checked
Actress Namitha to get married on November 24th
People looking for online information on Namitha will find this news story useful.