Actors and friends from the 80's celebrated friendship and brotherhood once again this year. This is their eighth reunion, and the theme was deep purple. This year it was a two-day retreat in an exotic seaside Intercontinental Resorts (Mahabalipuram), far away from the maddening city. The guests arrived on the morning of November 17 with their sunglasses, Hawaiian shirts, and spirit of friendship. The venue was decorated with purple orchids, many flowers, pom poms balloons masks, confetti, art and artefacts all in purple.

At 7 pm the stars came in one by one to the hall dressed in purple and were greeted with a broach made of orchid flowers and tiara made of purple flowers and green. Suhasini and Lissy were the hosts with great support from the dynamic Rajkumar Sethupathy, Poornima Bhagyaraj, and Khushbu. Guests from Mumbai, Kerala, Bengaluru, and Hyderabad arrived one by one. The group photo shoot started the celebrations. It was a rare sight to see all the 28 stars shine in deep purple. This year, as part of the entertainment, the 1960s and 70s melody Hindi songs were performed by Revathy, Khushbu as solos and duets by Suresh and Ramya, Sumalatha and Naresh. Finally, Radhika and Sarathkumar took to the stage. The prizes were won by Revathy and Khushbu

There was also a ramp walk by the women, followed by the men. Men's team lead by Chiranjeevi was declared winners by the generous women. Singer Sriram sang songs of each star including Poonam and Jackie Shroff from Bollywood to Venkatesh, Suresh and Bhagyaraj from South. All the actors narrated anecdotes about their songs. At 6 am the stars drove further down to a very authentic Tamil breakfast. The reunion continued the next day too. But on 18th the discussions were holistic, spiritual and philosophical. On 19th, all the 28 stars returned to their respective shooting schedules to their cities.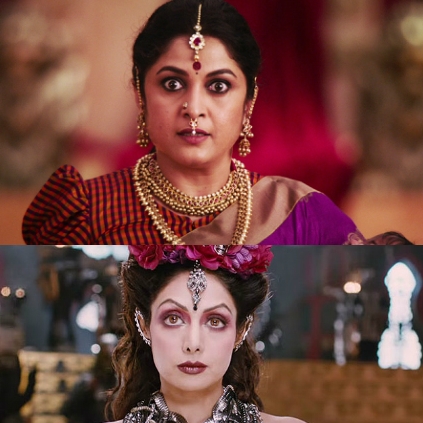 Ramya Krishnan who played the role of Sivagami in Baahubali did absolute justice to the character. But, do you know the character initially went to Lady Superstar Sridevi? Yes, if sources are to be believed SS Rajamouli approached Sridevi for the Sivagami character, and it is believed due to high remuneration the producers had to give up on Sridevi.
Sivagami character had a substantial impact on the film, it was both critically acclaimed and loved by the fans. But, what if Sridevi would have done that role? It would have been a perfect film after English Vinglish for her. Well, all that we can say is Sridevi missed being part of such a prestigious film while Ramya Krishnan just grabbed the opportunity to the fullest.
Actors from the 80s meet for a reunion
People looking for online information on Kushboo Sundar, Poornima Bhagyaraj, Radhika Sarathkumar, Ramya Krishnan, Revathy, Sarathkumar, Suresh will find this news story useful.