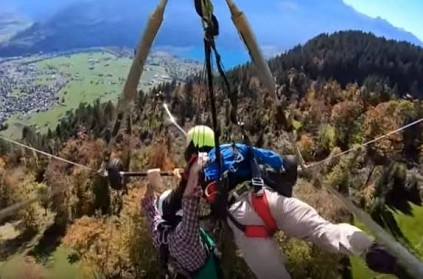 In a recent terrifying hand-gliding accident, a man was left hanging for his life after the pilot forgot to attach the harness. The scary incident took place on Monday in Switzerland. A video of the incident was also taken which went viral on social media.
YouTuber Chris Gursky was holidaying in Switzerland and decided to hand glide. However, Gursky's pilot forgot to attach the harness. The footage of the incident shows Gursky hanging on to the pilot's back and a metal bar on the glider.
Though the pilot tried his best to land the glider as fast as possible, Gursky was put in a dangerous pinch. Gursky even loses grip on the bar after some time and can be seen holding on to the pilot's leg desperately. The entire ordeal lasts for over 2 minutes. Eventually, the pilot comes close enough to the ground where Gursky jumps.
next