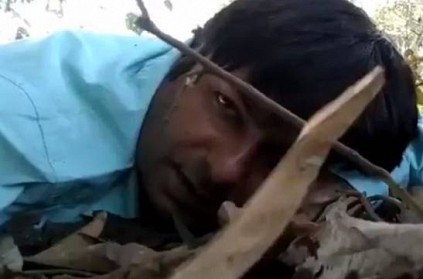 A Doordarshan journalist and his teammates were caught in a Maoist attack in Chhattisgarh's Dantewada on Tuesday. Mor Mukut Sharma was part of a three-member team sent by Doordarshan to cover the polls in the state.
After getting caught in the attack, Sharma recorded a selfie video for his mother. Sharma was heard saying, "We have come under a terrorist attack. We came to Dantewada to cover the election and the army was with us when suddenly Naxalites surrounded us."
"Mummy, if I survive this incident, I just want you to know that I love you very much. Chances are that I will be killed in this attack. The situation is not right. I do not know why but I am not scared while looking death in the face. It will be difficult to survive this. There are six to seven soldiers with us. We have been surrounded," Sharma addressed his mother.
Sharma and his team were ambushed by Maoists when they were heading to a new polling booth.
A brave son's emotional message to his mother. @DDNewsLive's Assistant Cameraman M.Sharma during #DantewadaNaxalAttack pic.twitter.com/rtbKQrla2s

— Rema Rajeshwari IPS (@rama_rajeswari) October 31, 2018
Tags :
#DOORDARSHAN #MAOISTATTACK
next