Meera Kathiravan's directorial Vizhithiru, starring Vidhaarth, Sai Dhansika, Venkat Prabhu, Kreshna, Rahul Bhaskaran, and others, is an anthology, which is all set to hit the screens finally on November 3, after quite a few postponements.

According to Meera Kathiravan, Rahul Bhaskaran has shown immense promise in terms of commitment and focus. On this note, the budding actor says, "I am paired opposite Erica Fernandes, a popular name in the model world. I play the son of a millionaire to whom money doesn't matter at all. This film has many segments and my segment has impressed many who had seen this film already. My birth in Tamil Nadu and upbringing across the country actually helped me to master both the languages - Tamil and Hindi."

He adds, "I was the one who trained Erica in Tamil. This actually helped me to improvise my skills too. My role model is Vijay Sethupathi anna. My growth, I pray, should be very similar to his; from the down, slow and steady. I am indebted to director Meera Kathiravan. His mental strength will be rewarded for sure. If the pre-release mouth talks are to be believed 'Vizhithiru' will be worth staying awake."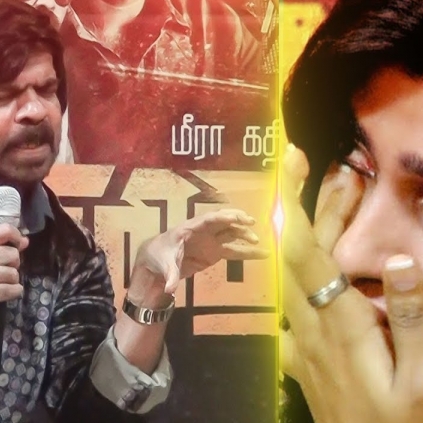 The recent Vizhithiru Press Meet Controversy between director TR and actress SaiDhanshika has been the talk of the film industry a couple of days back. As a lot of support flow in for the actress, there were equally questions raised at the other actors and crew members who didn't instantly try to stop them. But later the next day, few of the cast have come forward to explain their stance.
One of the Vizhithiru's lead Vidaarth has also posted his statement on Facebook to clarify his stand. He posted "I would like to give a clarification from my side regarding the issue happened at #Vizhithiru press meet. We all grew up and took up acting looking up to people like T Rajendran sir. I have never seen TR sir hurting people like this and what happened to Dhansika shook all of us.
It all started as a joke. TR sir is known for his rhyming and spontaneity when it comes to stages like this. He was, in fact, mocking other people on stage too, we all were in a feeling that it's just fun and took it on a lighter and by the time we realised it was turning out to be serious, it was out of our hands.
Me being on stage along with the other dignitaries couldn't voice at the right time and I apologise for it. I never mean to hurt Dhanshika or anyone for that matter.
I know her almost last 3 years and she is one gem of a person. I usually stay back for a little long during press meets & audio launches to address the press, but after all, what happened at the meet I was so much in guilt and immediately left the place. I still feel that I could have reacted then and there and I sincerely apologise to Dhanshika for it.
We all are like a family and juniors like us surely need to support from all the seniors and press. We are obliged for your support always.
Thanks and Regards,
Vidaarth."