Oscar Award-winning sound designer Resul Pookutty turns an actor for this multilingual film that talks about sound. Directed by Prasad Prabhakaran, this movie will have Resul Pookutty playing a sound designer who wants to record all the sounds in the world famous Thrissur Pooram festival. This project is produced by Mr.Rajeev Panakal of Palm Stone Multimedia.

Speaking on the film, director Prasad Prabhakaran says, "I can proudly say this is a never before attempted concept. Pooram festival in Thrissur is the biggest festival in the Universe, attended by a million people every year. This festival runs for a week. There are thousands of artists playing hundreds of instruments in the event, and the atmosphere will be absolutely electric and totally magical.

It has been Resul Pookutty's real-life dream to record the sounds of Pooram live. This movie is about a sound designer who wants to capture the sounds of this festival in his mike and record it. To our delight and honour, Resul Pookutty plays this sound designer role. This movie is titled 'Oru Kadhai Sollattumaa'. I am so proud Resul Pookutty chose this script to make his acting debut.

Over 80 technicians from Hollywood and Bollywood worked tirelessly in capturing the sounds of Pooram live for our movie. The camera team have captured over 300 live performing artists using 22 cameras. This movie will be such an experience that one can watch it even with their eyes closed. The sounds and the narration will convey the festival, moods and the story so brilliantly.

The music of the film is by Rahul Raj, and Vairamuthu has penned the lyrics. This movie is made in four languages with Malayalam, Telugu and Hindi being the other three. I am so excited about the outcome and can't wait for the audience to witness the experience that we have achieved to bring out."

The songs and trailer have been edited by Antony. The songs were recorded in AR Rahman's studio. Sony Music has bagged the audio rights of the movie.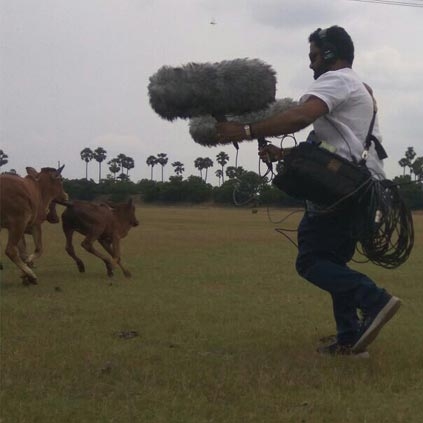 Superstar Rajinikanth's 2.0 aka Enthiran 2 is all set for January 2018 release. With the audio releasing next month, we could see more updates about the film in the coming weeks.

Acadamy Award winner Resul Pookutty updates about his research work for 2.0 via Twitter, "In search of the #SoundsOf2.O @SuperStarRajnii Early morning recording sessions for #Robot2". He also posted few photos from today's recording session.

*Tweet is not spell-checked
Resul Pookutty turns actor for Oru Kadhai Sollattumaa
People looking for online information on Resul pookutty will find this news story useful.