GV Prakash talks about the 19-year old female music director Sivathmika who is making her debut with Antony.

Check out the video: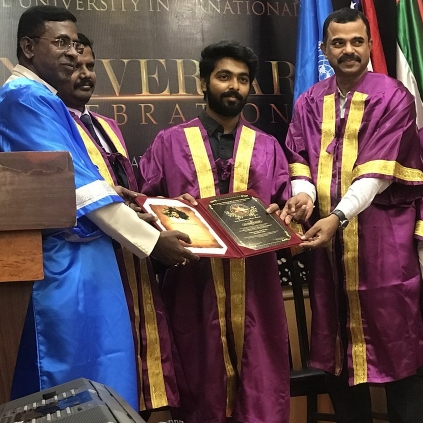 GV Prakash, music composer turned actor has his hands full with the release of his upcoming film, Sema on May 25th. Living in that joyous period, he has further received some exciting news on the way.

GV Prakash has always remained as a committed Civil citizen and often raised his voices against injustice in the society. He took a firm stand for Jallikattu protest in TamilNadu as well as participating in the Cauvery issue. As a token of appreciation for all these markable contributions to the society, he has been awarded the honorary doctorate for social services from St. Andrews Theological University International.

In occasion of this gratifying moment, his wife Saindhavi expressed her proud wife moment on Twitter to share the news with the fans.

"Proud moment when @gvprakash hubby dearest gets an honorary doctorate for social service from St.andrews theological university international. The whole family attending the event in full attendance #proudwife #proudmoment #honorarydoctorate #myhusbandmyhero"

*Tweet is not spell-checked*