Director Rajkumar is a renowned name in the television industry circle, who has directed popular hit shows like Kalakkapovadhu Yaaru, Asathapovadhu Yaaru, etc. He has now entered into the film industry to make his directorial feature debut. His first film has been titled, 'Seyali', which started to roll from today (June 2) with a formal pooja.

The film features an ensemble list of actors including Premkumar, Ineya, Sriman, Thambi Ramaiah, VTV Ganesh, Robo Shankar, Singam Puli, Motta Rajendran, Devadharshini, and others. Touted to be a comedy thriller, Seyali is bankrolled by Oceanaa AJR Cine Arts.

The film's technical team carries an array of talented names in the form of U.K.Senthil Kumar (DoP), Anthony (edit), LV Muthu Ganesh (music), and Pa.Vijay (lyrics).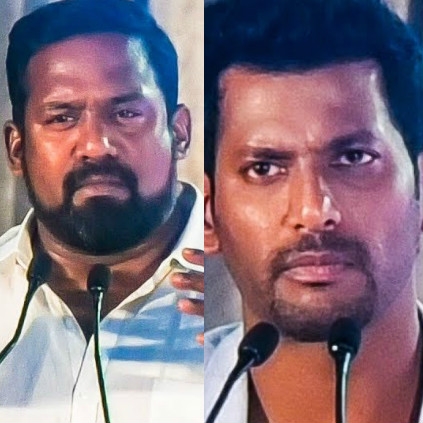 The teaser launch function of Vishal's Irumbuthirai happened yesterday night (December 27), which was attended by the cast and crew of the film. During the event, Robo Shankar, shared his experience of working in the film.

He said, "I thank director Mithran and Vishal sir for giving me the opportunity to be a part of this film. I will be the most happiest person after 6 pm daily, after the pack up. If you ask Samantha and Vishal, they'd imitate me perfectly.

There'd be a very serious intense scene to shoot and we would be preparing to get into that mood. Vishal sir would separately come to me and ask me to watch how well he performs. After the take gets over, he'd come again and act that scene in the most comical and humourous way, which would be so fun. That will mentally disturb me and change my serious mood, and when we go for a retake, or second, third takes, when the same scene is performed, I'd laugh out, or spoil the scene.

Like that, we've gone up to some 78 takes for a scene. At times, Vishal sir has blasted at me and has asked me to leave. It was a memorable experience to work in the film, and I am sure that the film will turn out to be a big success."