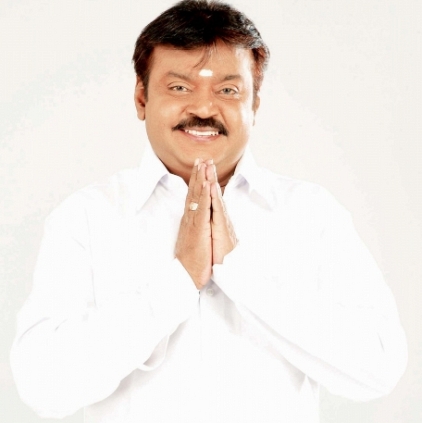 Captain Vijayakanth has officially taken to Twitter to register his New Year wishes to everyone, through his statement.

He said, "தமிழகத்தில் உண்ண உணவு, உடுக்க உடை, இருக்க இடம் ஆகிய மூன்றும் மக்கள் அனைவருக்கும், உறுதியாக கிடைத்திட வேண்டுமென எனது இதயப்பூர்வமான புத்தாண்டு நல்வாழ்த்துக்களை தேமுதிக சார்பில் தெரிவித்துக்கொள்கிறேன்."

The tweet is roughly translated as, "On behalf of DMDK Party, I wish everyone a very happy and prosperous new year. Let this New Year give the people of Tamil Nadu, good food to eat, clean dresses to wear, and a protective place to stay."

*tweet is not spell-checked
Shanmuga Pandian's film Madura Veeran is getting ready at a good pace and the audio of the film was launched recently. While addressing the press and media, director Venkat Prabhu who was present at the gathering stated his interest to direct Vijayakanth and his son. Venkat Prabhu said:

"I wish to direct Captain Vijayakanth as well as his son in a single movie. I do not know when and how this will happen but this idea is something that interests me! I wish the entire team of Madura Veeran best of luck for their film."

Venkat Prabhu is currently busy with the movies Party and RK Nagar, the projects that he is directing and producing respectively.