The shocking news that hit the film industry last week was the demise of legendary actress Sridevi. Her husband and film producer Boney Kapoor had been devastated ever since the tragedy took place. According to reports from Bollywood, Boney Kapoor who has kept himself away from most of the media has shared the course of events that took place on the particular night that saw Sridevi's demise. Talking about that night as per these reports, he has said:

"On 24th (February 24) morning, I spoke to her. When she told me, 'Papa (that's how she addressed Boney), I'm missing you', I also told her that I was missing her a lot. But I didn't tell her that I would be joining her in Dubai in the evening. Janhvi had seconded my idea of going to Dubai because she was scared, her mom, not used to being alone, would misplace her passport or some important document if she was alone. I went to the living room while Sridevi went to the master bathroom to bathe and get ready."
And post this event, Boney Kapoor who was watching the South Africa vs India match could not get a response from his wife, inspite of his loud shouts of her name 20 minutes later.

The trade analyst who got to talk to Boney Kapoor on this detailed set of events from that night has written, "Boney's impatience made him shout out to Sridevi from the living room itself. After calling out to her twice, Boney lowered the volume of the TV set. Still no reply. He then walked to the bedroom and knocked at the bathroom door and even called out to her. The unsuspecting husband, hearing the tap inside on, then called out 'Jaan, Jaan' still louder but got no reply, which was unusual. He panicked and opened the door which had not been bolted from inside, nervous but yet not at all prepared for what he was going to see. The tub was full of water and Sridevi was immersed completely, from head to toe, inside the tub. Devastated, he reached out to her but watching her motionless, he feared the worst.

Sridevi had drowned! Boney's world had come crashing down. Whether she first drowned and then became unconscious, or she first fell asleep or unconscious and then drowned, nobody will, perhaps ever know. But she probably never got a chance to even struggle for a minute because had she moved her arms and legs in panic while drowning, there would be some water spilling out of the tub. But there wasn't a drop of water on the floor outside the tub area.
The mystery will remain unsolved."


*Article based on reports from Bollywood media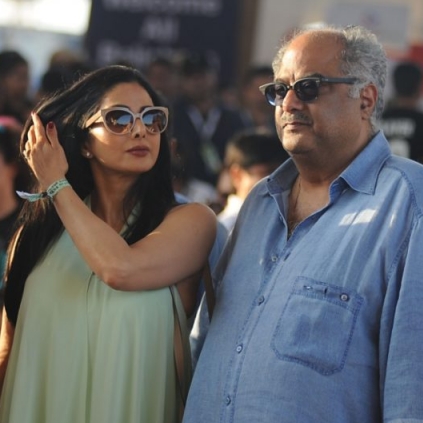 Sridevi passed away during the wee hours of last Sunday, and ever since then, the nation has been in shock. Her funeral and cremation happened yesterday evening (February 28) at Mumbai.

Sridevi's husband and producer Boney Kapoor has officially issued a statement on his dear wife's demise. He stated,

"Losing a friend, wife, and mother of your two young daughters is a loss inexplicable in words.
I would like to express my sincere gratitude to my family, friends, colleagues, well-wishers and all of you countless fans of my Sridevi who have stood by us like rocks. I am blessed to have the support and love of Arjun and Anshula, who have been such pillars of strength for myself, Khushi and Janhvi together as a family. We have tried to face this unbearable loss.
To the world she was their Chandni, the actor par excellence their Sridevi but to me she was my love, my friend, mother to our girls, my partner. To our daughters, she was their everything, their life. She was the axis around which our family ran.
As we bid goodbye to my beloved Wife and Khushi & Janhvi's mama, I have a sincere request. Please respect our need to grieve privately. If you need to talk of Sri, let it be of the special memories that connect each of you to her. She was and is an actor that is irreplaceable. Love and respect her for that. The curtains never come down on an actor's life, because they shine on the silver screen forever.

My only concern at this time is to protect my daughters and find a way to move forward without Sri. She was our life, our strength and the reason. We always smiled, we love her beyond measure.

Rest in peace, my love. Our lives will never be the same again.
Boney Kapoor"