Here is the motion poster of Trisha's Garjanai, directed by Sundar Balu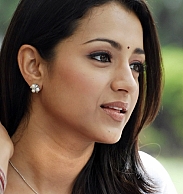 Trisha who completed a decade in the industry has made it clear that she is here to stay, and for long. After having shared screen space with the top actors in various industries, she feels that now is the time for her to shed her image as a heroine and claim the title of a performer.

She feels her new image makeover will begin with the film 'Rum' in which she has two other heroines for company. She says that despite the others presence, her role will be centrally prominent. Like most commercial films rest solely on a hero's shoulder, Trisha will be doing the same in Rum.

The avid animal activist is supposedly up for the challenge to take up the responsibility and show her mettle as a talented performer.