SPI Cinemas has started a new initiative Differently Designed for inclusive design in the mainstream marketplace. Differently Designed is an initiative that aims to empower differently abled artists by creating opportunities in design. By interpreting and adapting these special artworks, Differently Designed aims to create custom designs for packaging, invitations, stationery, clothing and merchandise for brands and individuals.

"We believe that differently abled artists have the potential to translate their views of the world into unique and beautiful pieces of art. They have the potential to see what others do not see and do what others do not do. Through Differently Designed, we aim to empower artists with special needs by creating mainstream opportunities," says Indira Reddy, one of the three founders of Kai Rassi.

"Great designs come with great stories. It is our hope to tell the stories of our artists through their unique designs. So far we've played around with a wedding invitation and fabric design for friends but the popcorn tubs are our first product under the Differently Designed label. We hope to find a clothing brand to adapt Differently Designed very soon. Brands that tell great stories like Nicobar, Titan and Tanishq are on our wish list," says Kadambari Narendran with a smile.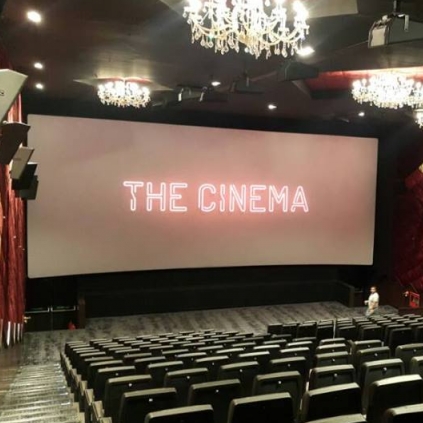 SPI Cinemas (fondly referred to by their flagship property - Sathyam Cinemas), a leading player in the Indian entertainment industry opens its doors to Bengaluru with the launch of a swanky five screen multiplex, 'The Cinema' at GT World Mall on Magadi Road. Known for re-inventing the movie going experience by exhibiting films in unique and beautiful spaces, SPI Cinemas is committed to delivering an exceptional cinematic experience to its customers.

The Cinema was inaugurated on 8th June 2017. "This is our first venture in Karnataka, and we are extremely happy to launch our brand 'The Cinema' in the city of Bengaluru. It will be an exciting addition to the city's movie scene, and we are looking forward to doing more theatres here in the near future," said Swaroop Reddy, President SPI Cinemas.
Conveniently located next to the Magadi Metro stop, The Cinema has a seating capacity of 1155 and features Gold Class seating as well as an exclusive Gold Class lounge. The Cinema offers a great cinematic experience with the best of sound and projection technology that transport you into the story. All screens are equipped with 4k Projection from Barco, Harkness Clarus XC silver screens and 3D technology from Master Image. They also feature Dolby Atmos, an immersive sound experience where the sound moves around you with breathtaking realism.

At SPI Cinemas, the traditional 'movie and popcorn' is done a little differently. Designed by French Chef Mickael Besse of Michelin Star repute, the menu features a range of gourmet sandwiches, cold coffee, cold-pressed juices and a host of other items. At the top of the list is the in-house popcorn that is a crowd favourite! The non-GMO corn is imported from Nebraska, home to some of the world's finest corn and can be topped off with different types of seasoning and real butter, depending on how adventurous one wants to get!
The online experience has been designed to make it as easy and convenient as possible for customers to purchase tickets as well as snacks. Tickets can be purchased at www.spicinemas.in or through the mobile app available for iPhone and Android users, as well as at the digital kiosks available at The Cinema. Customers can choose from a variety of digital payments including cashless, UPI and our in-house wallet 'Fuel.'

"Here, it's not just about watching a movie but about an overall wonderful experience. From the time you walk through our doors till the time you leave, we want you to enjoy every moment you spend with us," says Bhavesh Shah, Head of Experience New Business Initiatives, SPI Cinemas. The Cinema also provides additional services like pillow and duvet, spectacle cleaning, portable chargers, free high-speed Wi-Fi, Whatsapp for Feedback, etc. to ensure that all customer needs are met.
SPI Cinemas presents Differently Designed
People looking for online information on SPI Cinemas will find this news story useful.