நடிகை ராஷி கண்ணா, 'இமைக்கா நொடிகள்' படத்தில் நடிகர் அதர்வாவுக்கு ஜோடியாகவும், சைத்தான் கி பச்சா படத்தில் சித்தார்த்துக்கு ஜோடியாகவும் நடித்து வருகிறார். மேலும், விஷாலுடன் ஒரு படத்தில் ஜோடியாக நடிக்க ஒப்பந்தமாகியுள்ளார்.
ராஷி கண்ணா பிரபல இந்திய கிரிக்கெட் வீரர் ஜஸ்பிரிட் பும்ராவை காதலிப்பதாகத் தொடர்ந்து தகவல்கள் வெளியாகி வந்தன. இந்த நிலையில், பும்ரா தொடர்பான வதந்திகளுக்கு நடிகை ராஷி கண்ணா விளக்கமளித்துள்ளார்.
இதுகுறித்து அவர், "பும்ரா ஒரு இந்திய கிரிக்கெட் வீரர் எனத் தெரியும், அவ்வளவு தான். தனிப்பட்ட முறையில் அவரை எனக்குத் தெரியாது. மேலும், இதுவரை ஒருமுறைகூட நான் அவரை சந்தித்தது இல்லை. பும்ராவை காதலிப்பதாக வரும் தகவல்களில் உண்மையில்லை,'' என தெரிவித்துள்ளார்.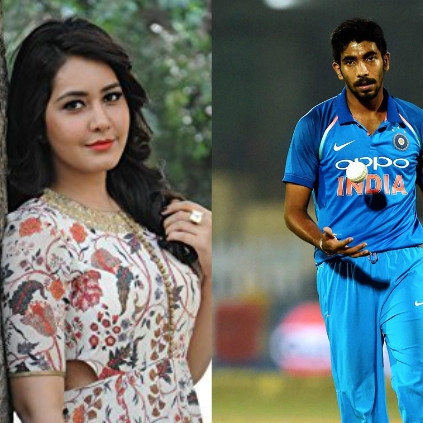 Actress Raashi Khanna who is a busy heroine has 3 big Tamil films in hand. They include Atharvaa's Imaikka Nodigal, Jayam Ravi's Adanga Maru and Siddharth's Shaitan Ka Bachcha. There have been some reports that stated that Raashi Khanna is dating top Indian pace bowler Jasprit Bumrah. However, the actress has clarified on the same and has banished them to be rumours. While addressing a certain section of the media, she has been quoted saying:

"I know that Bumrah is an Indian cricketer, that's it. There is nothing beyond that. I don't know him personally and I have even never met him yet. There is no truth in it (relationship rumors). It is sad to see such linkup rumors circulating on social media about a woman without any proper information".
Rashi Khanna is in love with Jaspreet Bumrah tamil cinema news
People looking for online information on Bumrah, Raashi Khanna will find this news story useful.