The recent few weeks have not been the best for Tamil cinema as there have been no new releases at all. The news that came in yesterday was that theatre owners will have a strike from March 16 and hence theatres will shut down from that date.

The latest breaking announcement as stated by the Tamil Nadu Film Producers Council headed by Vishal is that, there will be no shooting of films or any post production work from March 16, 2018. From this date, it has been stated that no film-related work will happen in Tamil cinema. Details and further information regarding this decision of the TFPC is awaited.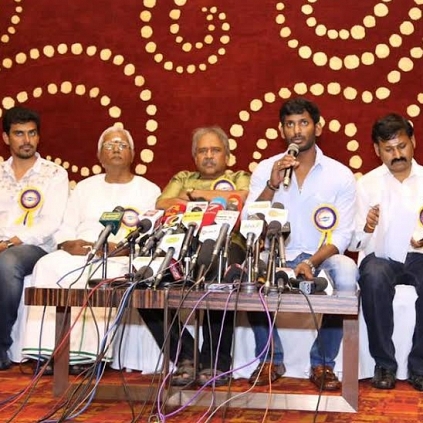 As per the latest urgent announcement from Tamil Film Producers Council, it has been decided, not to host any press meets, press shows, or film events from tomorrow (March 9).

The reason for the decision is yet to be known, and we will keep you updated about it. But, for now, it has been officially announced that there should be no press meets or film events happening from tomorrow, until, the next announcement comes.

Press meets of films, which were scheduled for tomorrow has been canceled due to this breaking announcement from the TFPC!