WATCH | FORTUNE TELLER HACKED TO DEATH IN BROAD DAYLIGHT
Home >
News Shots >
Tamil Nadu
By

Behindwoods News Bureau

|

Dec 25, 2018 12:27 PM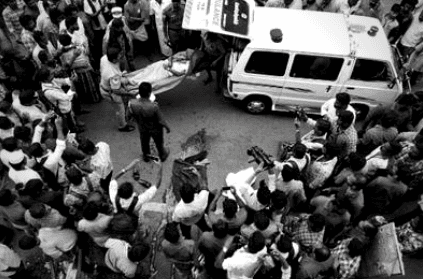 A fortune teller was hacked to death by a man in broad daylight in Tirupur, Tamil Nadu. The victim has been identified as J Ramesh alias Kumar. He is earning a living as a fortune teller, using parrots.

The incident took place in the Binny Compound main street. Police have obtained CCTV footage for the cameras in the area. The visuals showed an unidentified man getting into a tiff with the fortune teller.

"When Ramesh took a few steps forward, the accused put a helmet on his head and followed him. The man soon pulled out a sickle from his shoulder bag and hacked him several times," said a police officer. After committing the murder, the man fled the crime scene.

Police have seized a notice which was believed to have been left there by the murderer. The notice said that Ramesh had been responsible for the separation of a woman - with whom the murderer had an affair with - from him. The notice also mentioned that he wanted to expose the alleged "evil side" of the fortune teller.
next